Details of third Polish-British Belvedere Forum announced
The third edition of the Belvedere Forum will be held at the Royal Castle in Warsaw on 6-7 March 2019.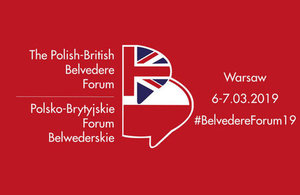 The Polish-British Belvedere Forum brings together representatives from a wide range of backgrounds, including academia, business, media, think tanks, NGO's, culture, and the diaspora.
The Forum aims to deepen the dialogue between British and Polish civil society by bringing together a diverse group of non-governmental actors from both countries to strengthen the extensive partnership between our countries. While the initiative is focused on links through civil society, it enjoys the full backing of both governments and follows an agreement by Prime Ministers in November 2016 to complement annual, Polish-British intergovernmental consultations.
Following the success of the inaugural forum in Warsaw in 2017, the second edition took place in London in February 2018, and brought together over 200 people from both countries to discuss one main theme: "the UK and Poland in a changing Europe: coming together or moving apart?"
On 18 September, the Steering Committee of the Forum, led by Sir Malcolm Rifkind KCMG QC and Professor Zdzisław Krasnodębski MEP and Vice President of the European Parliament, met to discuss details of the third edition. It was agreed that the third Forum will take place on 6-7 March at the Royal Castle in Warsaw.
During a reception to mark the announcement of the third Forum, Sir Malcolm highlighted the importance of the Forum to Polish-British relations:
Governments are here to serve people, and civic dialogue is what democracy is all about. That is why the Belvedere Forum was founded – as a platform for dialogue between civil societies.