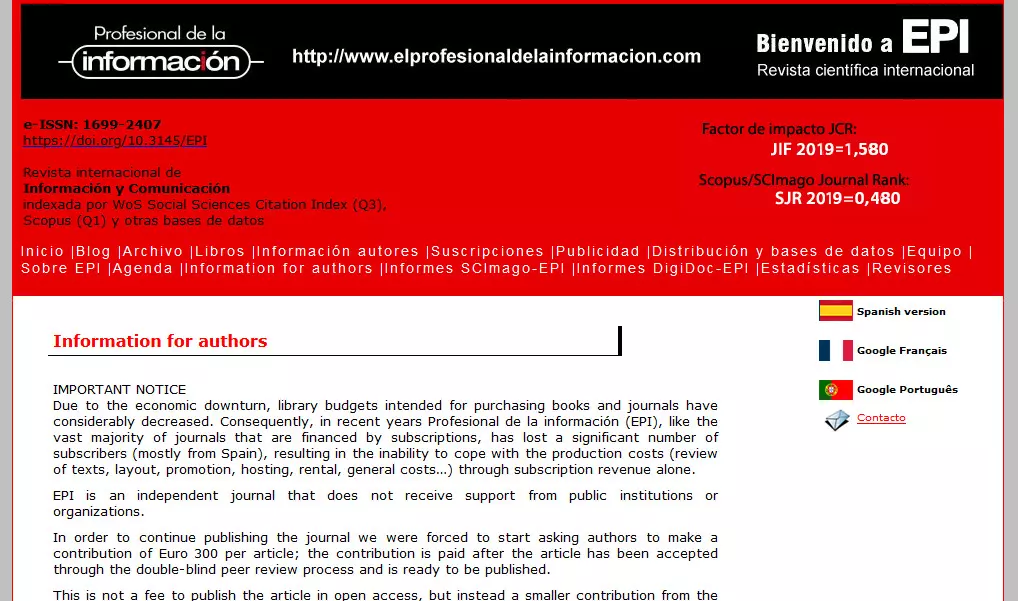 Profesional de la Información /seeks cutting-edge research studies,theoretical essays, and state-of-the-art critical review articles for aspecial...
Profesional de la Información /seeks cutting-edge research studies,
theoretical essays, and state-of-the-art critical review articles for a
special issue dedicated to sex, gender, sexuality, and communication to
be published in Volume 30, Issue 5 (September-October 2021) to be
published in the journal. Articles with a pedagogical focus, especially
those that elucidate specific concepts, technologies, or processes, will
also be considered. This special issue will celebrate methodological and
theoretical plurality, with the primary goal being to publish an
excellent collection of research and theory that advances thinking about
sex, genders, sexualities, and communication.
To that end, the editor will accept manuscripts featuring research using
quantitative and/or qualitative social scientific methods;
critique-oriented methods such as rhetorical, cultural, or media
criticism; and scholarship that is highly creative, especially as it
advances theory.
Manuscripts submitted for consideration must clearly advance
communicative aspects of one of the following special issue areas:
/Sex/: Research or theorizing that examines sexual communication,
ranging from sexual activity to talk about sex to sexual technologies to
sex-oriented media studies.
/Genders/: Research or theorizing that examines social and/or cultural
notions of identities as they relate to social expectations,
performances, transgressions, and/or articulations of masculine and
feminine identity. Work that moves beyond masculine/feminine identity is
especially welcome, including work that examines transgender and/or
gender non-conforming identities.
/Sexualities/: Research or theorizing related to sexual performance,
capacities, and feelings. For this special issue, work focused on
identity is especially welcomed – including work that adopts
intersectional theorizing about sexualities.
Those submitting to the special issue should follow the directions for
submission found on the journal website
http://www.elprofesionaldelainformacion.com/authors.html
Works will be accepted in both English and Spanish.
Those who are interested in submitting are welcome to contact the guest
editor at jimmiem@unr.edu
Manuscripts for this special issue should be submitted by May 15, 2021.
Possible topics for the special issue:
Communication on:
* Sexual talk and interaction in relationships
* Family interaction about sex, including sex education in the home
* Sexual harassment or harassment based on sexual and/or gender
identities
* New forms of sexual relating, including sexual identity formations
* Computer-mediated sexualities or behaviors (e.g., sexting, cybersex)
* Analysis of media texts related to sex, gender, and/or sexualities
* Gender and sexuality as them relate to health, ranging from
interactions with healthcare providers to larger cultural discourses
related to public health
* Sex education, both formal (e.g., the classroom, religious
institutions) and informal (e.g., peer talk, partner interaction)
* Applications of queer theory, including novel applications of queer
theory to social science research
* Political movements related to sex, genders, and/or sexualities
* Feminism, gender gap
* News discourses and/or journalistic approaches to articulating sex,
genders, and/or sexualities
A unique team of peer reviewers will be assembled to evaluate
submissions to the special issue. If you are interested in serving on
this team, please contact the guest editor at jimmiem@unr.edu
*About the journal*: /Profesional de la Información /is an
internationally recognized journal that publishes original research
articles on Information and Communication in Spanish and English. It is
indexed by Web of Science, Scopus, Inspec, Academic Search,
Communication Source, CNKI, etc.