69 Thousand Teacher Recruitment: 6696 Selected Candidates Will Be Allotted School on Tuesday
69 Thousand Teacher Recruitment: 6696 Selected Candidates Will Be Allotted School on Tuesday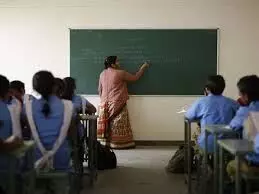 69 Thousand Teacher Recruitment: 6696 Selected Candidates Will Be Allotted School on Tuesday
School will be allotted online on Tuesday to 6696 candidates selected in third counseling in 69 thousand teacher recruitment in the state. Their counseling process was completed four months back in June.
The online verification of the list provided by the District Basic Education Officers took place on Monday. The process of school allotment will be done through the software developed by NIC. After the online verification process, the school will be allotted on Tuesday, November 2. In case of any problem in this process, contact the Deputy Secretary Basic Education Council Rajendra Singh and the concerned Board Assistant Vikram Singh on the phone.
69 thousand teacher recruitment: memorandum submitted for conducting fourth counseling
The candidates submitted a memorandum to the Deputy Secretary of the Basic Education Council, demanding the fourth counseling in the 69 thousand teacher recruitment process. The candidates said that after the third round of counselling, about one thousand posts are lying vacant. Fourth counseling should be conducted as soon as possible to fill these posts.
Counseling has been done thrice in 69 thousand assistant teacher recruitment process in primary schools. Candidates say that even after this, about one thousand posts are still vacant. Candidates say that the Basic Education Minister has been continuously saying that counseling will be done till the last post is filled. The candidates have demanded immediate fourth counseling by giving a memorandum to the Deputy Secretary of the Basic Education Council.