Coordinator, Education USA (Kolkata),United States–India Educational Foundation (USIEF)
Coordinator, EducationUSA (Kolkata)Basic Functions of the positionUnder the supervision of the Regional Officer, the Advising Coordinator provides...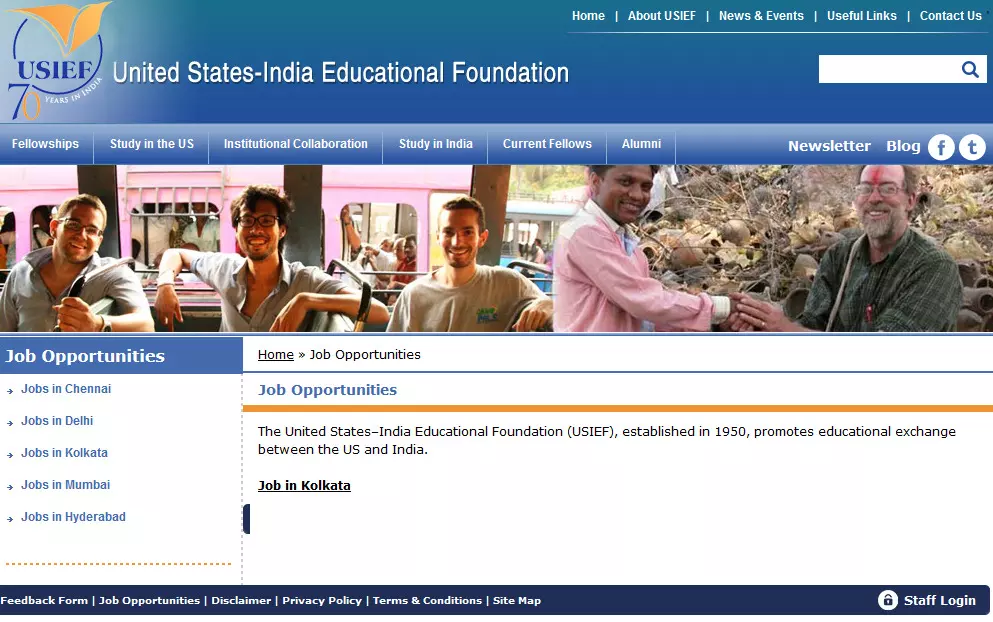 Coordinator, EducationUSA (Kolkata)Basic Functions of the positionUnder the supervision of the Regional Officer, the Advising Coordinator provides...
Coordinator, EducationUSA (Kolkata)
Basic Functions of the position
Under the supervision of the Regional Officer, the Advising Coordinator provides information to the targeted audience on U.S. higher education. The coordinator conducts outreach programs to promote USIEF visibility across Eastern Indian region. She/he is responsible for counseling and advising students, and test administration. The position is full time (40 hours per week) and will require travel.
The incumbent's major duties and responsibilities include:
Information Provision – Provide prospective students in India accurate, comprehensive, and current information on higher education in the U.S. in person, via e-mail, telephone, notice boards and internet-based tools.
Counseling and Advising – Advise students through periodic group sessions and individual consultations on all aspects of the U.S. college/university admission process, including information on U.S. admissions tests, financial aid, student visas and arrival in the U.S.
Test Preparation and Administration – Guide students to the books/e-resources available in the EducationUSA library as they research educational programs in the U.S., and to prepare for standardized tests such as the TOEFL, SAT, GMAT, and GRE. Assist in the actual administration – proctoring, invigilation, checking student credentials, ensuring test center validity and allied responsibilities as per the College Board/Educational Testing Services' guidelines -- of the relevant standardized test being administered at the EducationUSA Center.
Outreach on U.S. Higher Education - Develop and deliver an agreed number of educational advising programs aimed at raising awareness about U.S. higher education across the region from planning through to reports and evaluation. Programs will be determined by the needs of the target audience and will include participation in education/career fairs, seminars, book fairs, workshops and public talks at high schools, colleges/universities and other relevant public forums. This would also include support to visiting U.S. institutions for their programs at the EducationUSA Center and at high schools/colleges in the region.
Networking: Develop and maintain contacts at schools and colleges in the region for the purpose of coordinating outreach activities.
Database: Contribute to the data entry and maintenance of records related to the Center statistics and various student databases.
Information Desk: Manage the information desk/front desk and handle routine tasks such as attestation services and general enquiries.
Research - To maintain and update his or her own knowledge of the higher education scenario in the United States and in India. Survey the market to locate new books and software resources. Participate and learn from relevant training opportunities provided.
Social and electronic media: Regularly create and update content for social and electronic media platforms in consultation with advisers and senior management. Should also be capable of handling Facebook chats and regular posts independently keeping in line with the organizational communication policies. Use digital platforms (for example, survey portals, online forms, meeting and webinar platforms etc.) for relevant organizational tasks.
Any other responsibility as assigned by the Regional Officer.
Required Qualifications and Skills:
Education: Bachelor's Degree
Experience: Minimum two - three years relevant experience in higher education sector. Experience in a multicultural environment in an educational institution or NGO
Knowledge Required: Business ethics; Higher education sector of India and US; Advising Aides
Skills:High Level Oral and Written English Communication; Advising Skills; Customer Focus; Networking and Liaising Skills; Facilitation and public speaking Skills; Ability to Engage with Students.
IT: Email (Microsoft Outlook), MS Office – word, excel and PowerPoint, social
Compensation: Annual salary Rs. 6.90 lakh plus benefits of approx. 3.3 lakh.
EQUAL EMPLOYMENT OPPORTUNITY (EEO): USIEF provides equal opportunity and fair and equitable treatment in employment to all people without regard to race, color, religion, sex, national origin, age, disability, political affiliation, marital status, or sexual orientation.
How to Apply:
Interested candidates should complete the USIEF EMPLOYMENT APPLICATION FORM and e-mail as word attachment to careers@usief.org.in along with detailed CV and a Cover letter explaining how you meet the competency criteria.
The last date for receiving the completed application forms for the position is January 18, 2021 by 23:59 hrs.
Only short-listed candidates will be notified. Queries regarding application status will not be entertained.
Only applications completed on the USIEF Employment Application Form along with detailed CV and Cover letter will be considered.