Gorakhpur's development will be accelerated under the triple engine government, according to CM Yogi
Yogi Adityanath, the chief minister of Uttar Pradesh, praised the administration he leads on Sunday, stating that when a triple engine...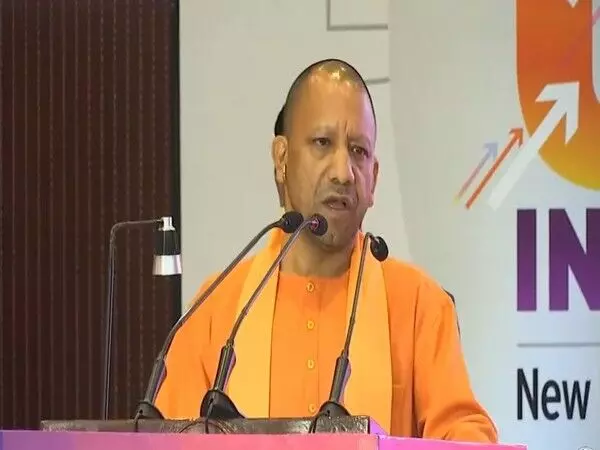 Yogi Adityanath, the chief minister of Uttar Pradesh, praised the administration he leads on Sunday, stating that when a triple engine...
Yogi Adityanath, the chief minister of Uttar Pradesh, praised the administration he leads on Sunday, stating that when a triple engine government—including those at the federal, state, and local levels—is in operation, progress is made at the rate of a bullet train.
CM Yogi stated that the city is experiencing rapid development as a result of the participation of all nine BJP district officials, including the mayor and district panchayat president, during an event organised at Veer Bahadur Singh Sports College in Gorakhpur.
CM Yogi lay the cornerstone for four large city development projects totaling Rs 1,822 crore that deal with drainage, sewerage, four-lane roads, and flyovers.
"We must all work to keep this pace of progress going. There is no shortage of money for construction projects. The public must participate in the development process, maintain the previous effort, and move forward with what is happening in a timely manner. Development can only take place. Only through growth can the lives of the populace change, can jobs be generated, "Yogi, CM, रेमार्केड
The officers of the executing agency were also given instructions by the chief minister to complete all projects on schedule while maintaining standards and quality.
According to CM Yogi, Gorakhpur, which was once known for its mafia, anarchy, and instability, has recently become a model of growth. "The local healthcare system was in shambles prior to 2017. The AIIMS is here today, and BRD Medical College offers super specialised services. The fertiliser factory that was shut down in 1990 has been replaced with a new facility that produces fertilisers at a rate of 105%. The district's farmers are finding that this factory is a cure-all."
According to CM Yogi, a Sainik School would shortly be built on the grounds of the fertiliser factory itself and open for business during the following academic year.
"Every road in Gorakhpur has four lanes, but the road between Gorakhpur and Lucknow will have six. The four-lane has shortened the travel time between Gorakhpur and Varanasi to two and a half to three hours. The issue of traffic bottlenecks is also being resolved by the connectivity of the roads. Additionally, Gorakhpur has fantastic air connectivity.
From here, 14 different airlines offer flights to important destinations like Delhi, Mumbai, Bengaluru, etc. The new airport in this area is being funded by the government."The Gurudwara of Mansarovar, Suryakund, Mukteshwarnath, Jatashankar, and Mohaddipur, among others, have all become visible. Ramgarhtal, which was a haven for criminal activity till eight to ten years ago, has transformed into the most stunning place.
place. Now, movies are being filmed here. In Gorakhpur, four universities are operational "He continued by saying.
Yogi claimed that in addition to AIIMS and the Medical College, there are other hospitals and thousands of private physicians working here. The centre of medical and education has moved to Gorakhpur. "Gorakhpur is receiving investment, and local youth are finding work and employment there. Additionally, individuals from around the nation are coming here in search of employment "He emphasised.
Chief Minister Yogi Adityanath praised Gorakhpur's residents for their cooperation, noting that they had never prevented construction from taking place. He stated that whenever the need to enlarge roads occurred, individuals were willing to donate a portion of their homes and businesses, and that the Asuran-Medical College Fourlane, Air Force-Circuit House Fourlane, and Mohaddipur-Jangal Kauria Fourlane are evidence of this.
According to CM Yogi, the Goddhoiya drainage project will not only clear out encroachments but also address waterlogging and sewage issues for a population of roughly two lakh people spread across 17 wards. Project recommendations include development on a 19.5 km intercepting
sewage line, a 38 MLD STP, a 61 MLD MPS, a 19.5 km RCC drain construction, 22 bridges/culverts, and other construction projects.