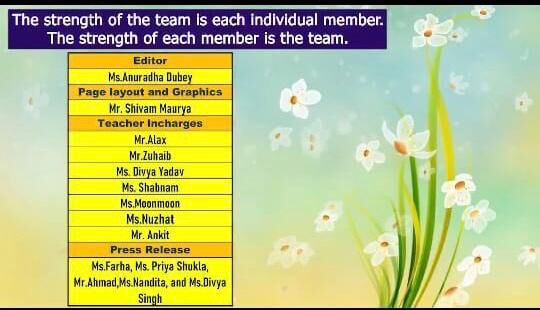 https://m.facebook.com/story.php?story_fbid=2551975291709304&id=1729877073919134Special Assembly on Eid-ul-FitrEid-ul-Fitr is celebrated to mark the...
https://m.facebook.com/story.php?story_fbid=2551975291709304&id=1729877073919134
Special Assembly on Eid-ul-Fitr
Eid-ul-Fitr is celebrated to mark the end of Ramzan which is
a holy month of fasting for the Muslims all over the world. Eid is a day of
festivity and celebrations.
Achieving another milestone in this lockdown period we at
DPSGN celebrated Eid-ul-Fitr with great fervor by organising a Special Assembly
in which our students enthusiastically participated and gave a strong message
of love and harmony.
First of all an introduction about the festival was given by
Diva Singh of V A and Ananya Agarwal of IX A giving us an insight about the
importance of Eid-ul-Fitr.
A beautiful rendition of prayer 'Bind us Together…' was done
by Shashwat of VIII A, Mekhla Rajvansh of IX C, Aparajita Singh of IX C and
Kanishk Upadhyaya of VIII C prepared by our Music department.
A powerful thought about gratitude and love for all was
presented by Arushi Chowdhury of VIII D. It was followed by a speech stating
the true essence of Eid celebrations-that is harmony, kindness, gratitude and
charity presented by Aaradhya Pandey of VII C.
Students of primary section Vanya Mishra, Tvisha Bharti,
Varalika Pathak, Vihaan Pathak of IV C and Diva Singh of V A presented a
beautiful dance presentation under the able guidance of our Dance department
uplifting the mood of celebration.
Mekhla Rajvansh and Aparajita Singh of IX C alongwith Daksh
Arora of VI A, Darsh Kulkarni of VII A and Shashwat of VIII A crooned a soulful
hindi song in their melodious voices heightening the celebratory mood.
Little artists of DPSGN gave the message of "Unity in
Humanity" through beautiful paintings made by Lavanya Vashisht of I C,
Samriddhi Chowdhury of III B, Aarna Singh of I A and Hamza Sheikh of VI A which
were colored in the mesmerizing colors of love and brotherhood.
An interview was done in which our students and parents
through video messages shared how they are helping the poor and the needy
through whatever means they have. Ashmeet Kaur of IX C, Sheikh Mohammad Bilal
of X A and Aparajita Singh of IX C shared how they're keeping the spirit of
one-ness alive.
A special presentation was done by the students of XII B
Asma Saeed, Sarah Saeed and Aiman Ahmad, Aamish Siddiqui of XII C on the
importance of zakat-charity which is the third important pillar of Islam. It
gave a powerful message of bridging the gap between the privileged and the poor
by sharing and caring.
Anchoring was done by Ms Shabnam Siddiqui.
In the end our Principal Ms Rupam Saluja gave a vote of thanks
to one and all for making it truly a 'Special Assembly'.
---_---------------------------_---
Creative head Mrs Rupam Saluja Principal