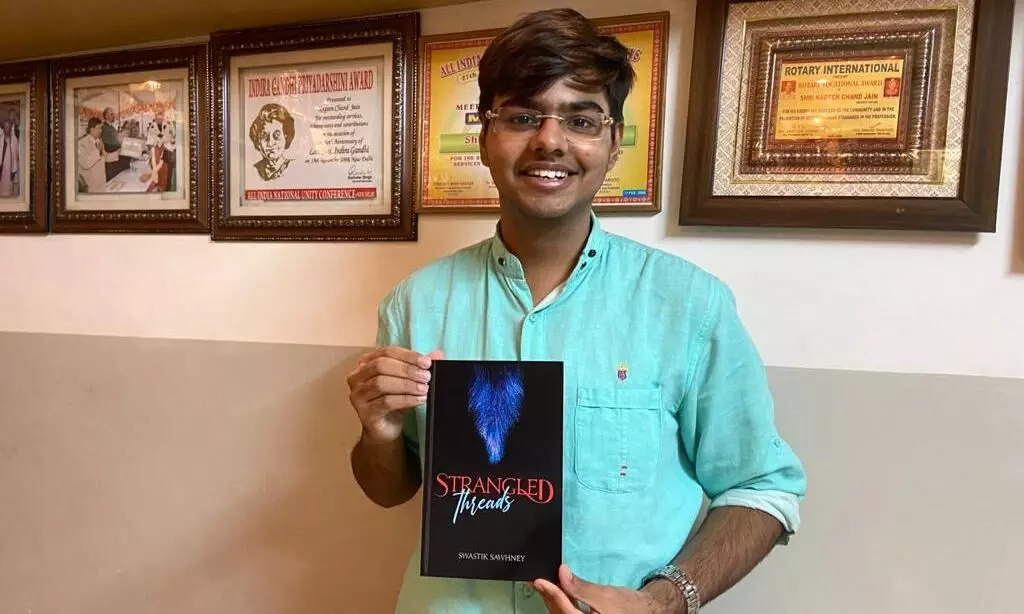 'STRANGLED THREADS', is the name of the debut novel of Swastik Sawhney, a 17-year-old boy, an alumnus of St. Mary's Academy and presently a student of ...
"STRANGLED THREADS", is the name of the debut novel of Swastik Sawhney, a 17-year-old boy, an alumnus of St. Mary's Academy and presently a student of XII Std at Dewan Public School, Meerut.
This novel 'Strangled Threads' is his Debut Novel based upon the amalgamation of his imagination and observation. The story shall catch hold of all the generations for sure, as the ideas floating around the beauty of relationships which at times become too engulfing and at times develop lots of knots amongst themselves. The untying and polishing of these knots to beautify the relationships are portrayed from the soft heart of this pretty young budding author, Master Swastik Sawhney.
He began to write his novel after his X standard's board exams and converting this unfortunate period of Pandemic COVID-19 into an opportunity gave the final shape to the novel by bringing up copies in the hands of lovers of reading habits.
Swastik Sawhney is Dr. Usha Sawhney's son who herself is an author & a poet as well. Swastik got influenced by her mother's creative skills and got the literary environment at his own home.
He is minor by age but is deep-rooted in major performances in the world of creative writing. He is a content writer of a budding NGO 'Smile Creator', a poet in both the languages i.e., Hindi and English. He writes scripts for skits & dramas along with directing them for his school activities.
He possesses great oratory skills that make him a good debater and a smooth event anchor too. He is active in preparing his poetry recitation and acting videos. His poetries have been published in E-magazine like विज्ञान आओ करके सीखें and on the Web page of an E-News portal named www.poojanews.com
He is a fond reader of thrillers and historical novels, since his eighth standard. Always been a lover of visiting new places, loveable kind amongst his friends, favorite of many teachers and family friends as well. He possesses a calm nature, believes in reasonings; can't fall for anything blindly accepting without knowing W's & H's, i.e., What, When, Why, Who and How?
He had a bent on writing since his very childhood days. He used to write his personal diary which is a part of his life to date. He used to enjoy his artistic thirst, decorating his emotions through poetry. He has been a keen observer of his surroundings; digging the understanding of complex emotions, and the display of contrasting feelings at the same time, like pain and joy, both. He could paint them on a piece of paper in poetic and prose, both the fashions.
The publisher of "Strangled Threads" is Nageen Prakashan, Meerut and this novel is now available on Amazon as well.
The foreword of the novel has been written by Dr. Vishesh Gupta, The Chairman, UP State Commission of Protection of Child Rights, who blessed Swastik Sawhney by his words to come up with many more creative activities in the future as well.